Explore the Best Things to Do in Pondicherry – Unveiling Hidden Gems
Pondicherry, also known as Puducherry, is a charming coastal town located on the southeastern coast of India. With its unique blend of French and Indian cultures, Pondicherry offers a plethora of experiences for travelers seeking a memorable getaway. Whether you're interested in exploring its rich history, indulging in water sports, or simply relaxing by the beach, Pondicherry has something for everyone. In this article, we will take you through some of the top things to do in Pondicherry.
Introduction
Nestled along the Bay of Bengal, Pondicherry has a rich history that dates back to the colonial era. Its French Quarter, also known as White Town, showcases stunning colonial architecture and is a delight to explore. The town's vibrant culture, serene beaches, and delectable cuisine make it a popular destination among both domestic and international tourists.
Explore French Quarter
Visit Aurobindo Ashram
One of the main attractions in Pondicherry is the Sri Aurobindo Ashram, founded by Sri Aurobindo and his spiritual collaborator, The Mother. This spiritual community promotes integral yoga and spiritual growth. Visitors can explore the tranquil ashram, attend meditation sessions, and learn about the teachings of Sri Aurobindo.
Enjoy Promenade Beach
Promenade Beach, also known as Rock Beach, is a picturesque stretch of coastline that offers breathtaking views of the Bay of Bengal. Take a leisurely stroll along the promenade, enjoy the cool sea breeze, and witness mesmerizing sunsets. The beach is lined with cafes and eateries where you can savor local delicacies.
Stroll through White Town
White Town is the heart of Pondicherry's French Quarter and is known for its well-preserved colonial buildings, colorful streets, and charming cafes. Take a leisurely walk through the streets, admire the architecture, and soak in the unique ambiance. Don't miss the vibrant boutiques and art galleries that showcase local talent.
Discover Auroville
Auroville, an experimental township located near Pondicherry, is a testament to human unity and sustainable living. It was founded in 1968 with the aim of creating a universal town where people from different cultures and backgrounds can live harmoniously. Here are some highlights of Auroville:
Experience Matrimandir
Matrimandir, the iconic golden globe in Auroville, is a symbol of human unity and spiritual aspiration. Visitors can explore the exquisite architecture, meditate in the serene surroundings, and experience a sense of inner peace. The Matrimandir Gardens offer a tranquil space for relaxation and contemplation.
Participate in Workshops and Activities
Auroville hosts a wide range of workshops and activities that promote personal growth, sustainability, and artistic expression. From yoga and meditation retreats to pottery classes and sustainable farming workshops, there is something for everyone. Engage in these activities to learn new skills and connect with like-minded individuals.
Visit Auroville Beach
Auroville Beach, also known as the Golden Beach, is a secluded stretch of coastline located near Auroville. This pristine beach offers a tranquil escape from the bustling city life. Relax on the sandy shores, take a dip in the clear waters, and enjoy the serenity of nature.
Indulge in Water Sports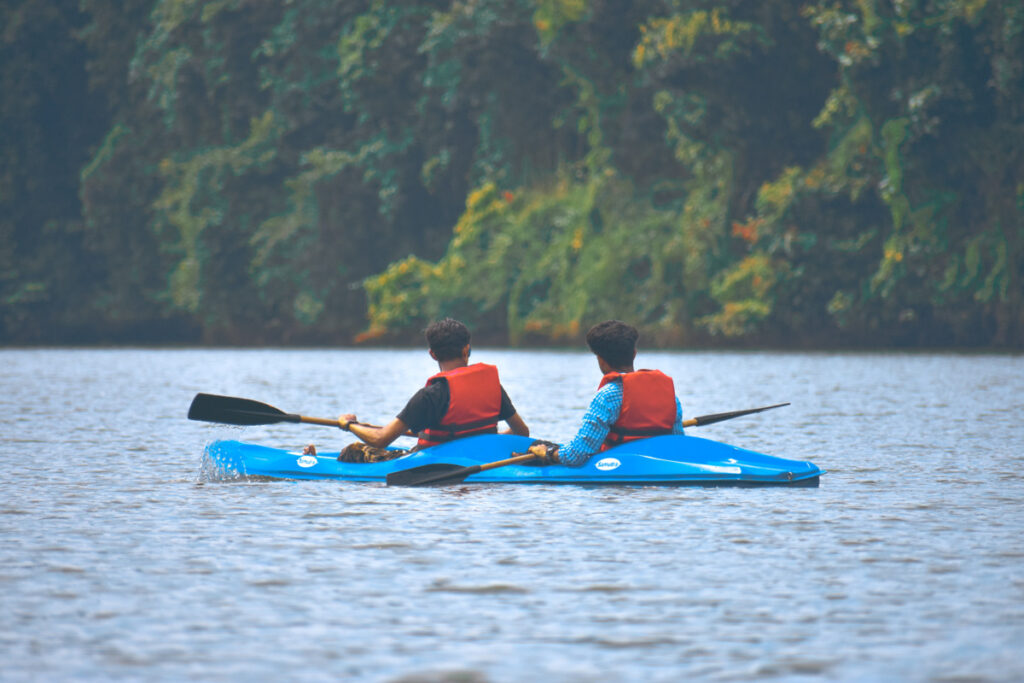 Pondicherry's coastal location makes it an ideal destination for water sports enthusiasts. Whether you're a beginner or an experienced adventurer, there are plenty of options to satisfy your thrill-seeking spirit.
Try Scuba Diving
Explore the vibrant marine life of the Bay of Bengal by indulging in scuba diving. Several diving centers offer courses and guided dives for both beginners and certified divers. Dive into the crystal-clear waters and witness the colorful coral reefs, exotic fish, and underwater wonders.
Go Surfing
Pondicherry's beaches provide excellent surfing conditions, attracting surfers from around the world. If you're a beginner, you can take surfing lessons from experienced instructors. Ride the waves and feel the exhilaration as you glide across the water.
Kayaking in Chunnambar Backwaters
Chunnambar Backwaters, located just a few kilometers from Pondicherry, offer a serene setting for kayaking. Paddle through the calm backwaters, surrounded by lush greenery and mangrove forests. It's a great way to immerse yourself in nature and spot various bird species.
Explore the Cultural Heritage
Pondicherry's rich cultural heritage is evident in its architectural marvels, museums, and parks. Immerse yourself in the town's vibrant history and discover its cultural gems.
Visit Basilica of the Sacred Heart of Jesus
The Basilica of the Sacred Heart of Jesus is a magnificent church known for its Gothic-style architecture and stunning stained glass windows. Step inside and admire the beautiful interiors adorned with intricate designs. Attend a mass to experience the spiritual ambiance of this sacred place.
Explore Pondicherry Museum
Pondicherry Museum houses an impressive collection of artifacts that showcase the town's history, culture, and heritage. From sculptures and pottery to ancient coins and colonial-era relics, the museum offers a glimpse into Pondicherry's past. Take your time to explore the exhibits and learn about the region's diverse heritage.
Discover Bharathi Park
Bharathi Park, also known as Government Park, is a peaceful oasis in the heart of Pondicherry. The park features lush green lawns, beautiful flower beds, and a statue of the renowned Tamil poet, Subramania Bharathi. Take a leisurely stroll, enjoy a picnic, or simply unwind amidst nature's tranquility.
Enjoy Culinary Delights
Pondicherry's culinary scene is a delightful fusion of Indian and French flavors. Indulge in a gastronomic adventure and savor the unique dishes offered in the town.
Try Local Cuisine
Sample the local Tamil cuisine, known for its flavorful spices and rich flavors. Don't miss the traditional dishes like dosa, idli, and sambar, which are popular breakfast options. Visit local eateries and street food stalls to savor the authentic flavors of Pondicherry.
Visit Cafes and Bakeries
Pondicherry is dotted with charming cafes and bakeries that offer a blend of Indian and French delicacies. Enjoy a cup of aromatic coffee, indulge in freshly baked pastries and bread, and relish the delectable desserts. The quaint ambiance of these establishments adds to the overall experience.
Savor French-Inspired Dishes
Pondicherry's French Quarter is known for its French-inspired cuisine. Explore the restaurants and bistros that serve dishes like crepes, croissants, and quiches. Pair your meal with a glass of wine and immerse yourself in the French charm of Pondicherry.
Conclusion
Pondicherry offers a captivating blend of history, culture, adventure, and culinary delights. Whether you're seeking relaxation, exploration, or a cultural experience, this coastal town has it all. From exploring the French Quarter to indulging in water sports and savoring delicious cuisine, Pondicherry promises a memorable journey. Plan your visit and immerse yourself in the enchanting beauty of this unique destination.